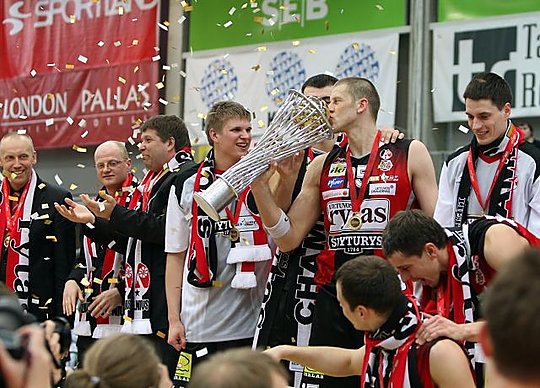 As the picture above shows, Lietuvos Rytas won the BBL final against Žalgiris in Tartu and took the Baltic trophy back to Vilnius – nothing to argue about here. But who was better? Most of you would find the answer to the question by looking a couple of sentences back; others would use extremely complex mathematic formulas and still get the same answer – Lietuvos Rytas and I wouldn't argue again. For god's sake, they did win the final by 23 points. Remember what BBL stands for? It's a league where clubs from three countries battle against each other to find out who's better in basketball – Lithuania, Latvia or maybe Estonia? 
The nominees 
Lithuania, the country, whose teams have occupied both final spots for all five occasions, is way ahead if you take only Rytas and Žalgiris in mind. Other clubs are only of mediocre level comparing to teams from Latvia and Estonia at the best shot. In result the total rating of the country should average out. Latvian sides had been making huge strides getting closer to top Lithuanian clubs. ASK, Barons, Ventspils were now able to offer an interesting game for Rytas or Žalgiris. The smallest of the three, the Estonian brother was sitting quietly in the corner and doing homework, checking for mistakes again and again. They did not want to get crushed every time while playing against a decent team. All we can say – homework well done. Rock and Kalev have shown what Estonian basketball is capable of, by taking a third place in regular season (Kalev) and winning the bronze medals (Rock). The winner will be determined by the percentage of games won against clubs from other countries.
Ready, set – go!
Lithuania 55,6 / 44,4 Latvia. The Lithuanians won 20 of 36 games that meant that if Latvian sides would have won three more showdowns, they would be the ones laughing. Lietuvos rytas was by far the best club with 8 victories from 9 games; other clubs were pretty much equal. Žalgiris (5 from 8), ASK (7 from 12), Šiauliai (6 from 11) and Barons (4 from 8), all could have made a big difference with another victory or two. Valmiera, Ventspils and Nevėžis all had negative results. 
Latvia 29,4 / 70,6 Estonia. Rock and Kalev proved that patience helps by winning this matchup 12:5. Both Estonian sides won against all of the Latvian clubs at least once, with Rock beating Barons home and away, ASK two times as well (one in the Final 4) and Valmiera losing all 4 games to make matters worse. Rock had the best record with 7 from 9, with Kalev second with 5 victories and 3 losses. None of the Latvians sides had a positive outcome – Ventspils won 2 of 4, Ask 2 of 5, Barons 1 from 4 and Valmiera made shame to Latvian and its basketball by losing all 4. The big Estonia victory moves them into the lead for now and Lithuania will need to win the final match up by a certain margin to pass Estonia at the leader board. 
Estonia 41,2 / 58,8 Lithuania. Is this going to enough or will Estonia take a surprise overall victory? Žalgiris (4 from 5) and Rytas (3 from 4) slipped up in Estonia once each. Rock (2 from 9) beat Rytas in Tartu and Kalev (5 from 8), who was beaten in Kaunas, crushed Žalgiris in Tallinn. Šiauliai managed to defeat Rock twice, but lost to Kalev two times to make it even. Nevėžis was the worst against Estonian clubs as well, taking only one victory against Rock, out of the possible 4.
And the winner is… 
It was a close duel, probably closer than anyone expected, but the winner is still Lithuania with 30 victories from 53 games (56,6 %) beating Estonia by a smallest probable margin of one victory. Hats off to Rock and Kalev, who managed to win 19 games of 34 played (55.9 %) – one more win would have meant that we would now be crowning Estonian basketball as the best in the Baltic States. Latvia was a distant third with 21 games won and 32 lost and a 39.6 % total winning percentage. Let's congratulate the winners one again, though the runners up deserve as much, if not more, praise for their incredible effort.